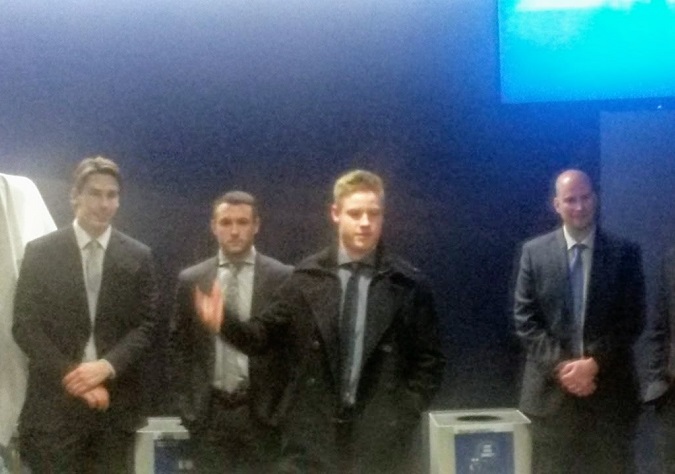 Next Meeting
Attention members our next meeting is September 17, 2018 at 5:45 pm in the auditorium at Pegula Ice Arena.
The objective of Friends of Penn State Menís Hockey, Inc. is to increase fan support and involvement of alumni, students and the community in the Penn State Menís Hockey Program. Membership affords the opportunity to interact with team members and coaches at a number of events.

Click here to download the 2018-19 Friends of PSU Men's Hockey Inc. membership application.

Any questions related to membership can be emailed to membership@fopsmh.org.
Officers
Our booster club officers are:
President: Linda Matesevac
Vice President: Wendy Jo Hartsock
Secretary: Jane Whitaker
Treasurer: Richard Shore
Additional Board of Directors: Jen Cowher, Susan Geering, John Gilger, Dale Lamke, William Rusk, Joel Sobel, and Anna Whitaker

Non-Profit Status
Also note Friends of Penn State Men's Hockey ("FOPSMH") is a 501(c)(3) non-profit organization, and donations to FOPSMH are tax deductible.
Newsletters
The previous copies of "Full Strength", the FOPSMH newsletter, available online are the following: Fall 2014: http://fopsmh.org/2014fall.pdf Spring 2015: http://fopsmh.org/2015spring.pdf
Fall 2015: http://fopsmh.org/fall_2015.pdf Spring 2016: http://fopsmh.org/spring_2016.pdf
Fall 2016: http://fopsmh.org/fall_2016.pdf
Spring 2017: http://fopsmh.org/spring_2017.pdf

Most recent copy of the newsletter is available with your FOPSMH membership. If you are interested in joining FOPSMH, check out our membership information on this page or stop by our table at home games (near Gate A).
For More Information
Team:
Team Site
Facebook
Twitter
Instagram

Other:
Pegula Ice Arena
Ice Hockey Camps
Nittany Lion Club
NCAA Division I Men's Ice Hockey
The Roar Zone
Donate Online
Additional donations (only) to the club can be made online at
http://www.active.com/donate/mhbc. Please note: This active.com link is NOT for memberships. For memberships download the form listed under the "Membership" section above, fill out the form, and mail the form with your check payment. Payments using this active.com link will be accepted as a donation only, as stated, and not for a membership.
---
Friends of Penn State Men's Hockey, Inc., PO Box 1104, State College PA 16804
Webmaster: William Rusk (webmaster@fopsmh.org)
Photo Credits: Stephanie Corcino, William Rusk, Joel Sobel