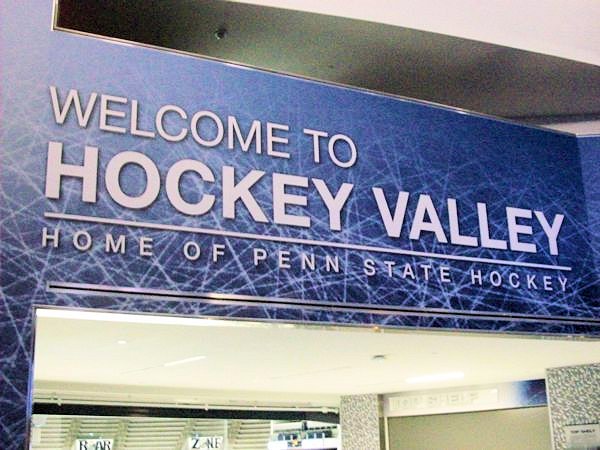 Bus Trip!
Friends of PSU Men's Hockey Bus Trip to Wells Fargo Center
Date: January 31, 2015
Event: Penn State vs. Vermont
Bus leaves from State College (pickup info to come) and possibly a stop in Harrisburg.
Prices: $50 for club members; $60 for non members (from State College); $40 for members and $50 for non members from Harrisburg (tentative)
Cost includes: round trip coach service to and from State College; ticket and tip for driver.
Contact: John Gilger via email at gopens68@gmail.com to reserve seat(s) or any additional information.
Next Meeting
Our next meeting is February 17, 2015 at 6pm in the auditorium at Pegula Ice Arena.
Club News
We just e-mailed the first edition of Full Strength, our semi-annual newsletter, to all members of Friends of Penn State Menís Hockey. This newsletter contains articles by Coach Gadowsky and team captains, interviews and Q & Aís with coaches, players, and support staff, fun facts, and pictures not published anywhere else. To get your copy, become a member today.
Membership
The objective of Friends of Penn State Menís Hockey, Inc. is to increase fan support and involvement of alumni, students and the community in the Penn State Menís Hockey Program. Membership affords the opportunity to interact with team members and coaches at a number of events.

To download an application click here. For any questions on club memberships email membership@fopsmh.org.
Officers
Our booster club officers are:
President: John Gilger
Vice-President: George Olsen
Secretary: Linda Matesevac
Treasurer Richard Shore
Additional Board of Directors: Carole Pearce, Colby Wesner, Joel Sobel, Roy Hammerstedt, Stephanie Stankiewicz, Susan DelPonte, Wendy Jo Hartsock, William Rusk

For More Information
Team:
Team Site
Facebook
Twitter

Other:
Pegula Ice Arena
Ice Hockey Camps
Nittany Lion Club
NCAA Division I Men's Ice Hockey
Donate Online
Additional donations (only) to the club can be made online at
http://www.active.com/donate/mhbc.
---
Friends of Penn State Men's Hockey, Inc., PO Box 1104, State College PA 16804
Webmaster: William Rusk (webmaster@fopsmh.org)