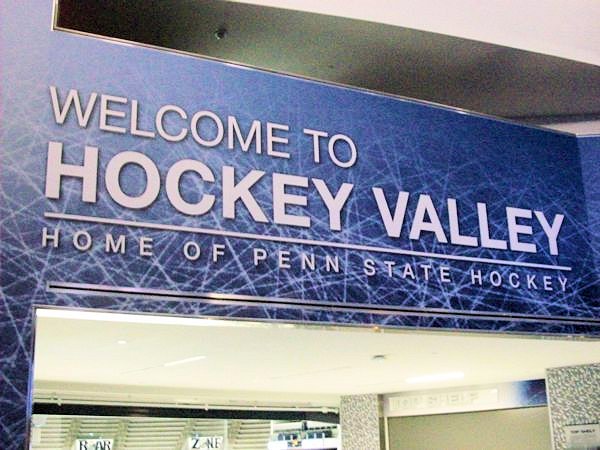 Next Meeting
Our next meeting is October 20, 2015 at 6pm in the auditorium at Pegula Ice Arena.
FOPSMH Ticket Drawing
The Friends of PSU Men's Hockey will be holding a drawing for two sets of two tickets (one set of two for each night) to PSU's non-conference men's hockey series with visiting Notre Dame. The weekend is set for October 16-17 and should provide an exciting brand of hockey for all attending. A parking pass for the Wagner lot will also be included with the tickets for each night. The tickets are on the glass, Section 120, Row A, seats 5-6.

Notre Dame will come into Pegula Arena boasting nine NHL draft picks on its roster. Mario Lucia is the top returning player for the Fighting Irish. The second round pick by the Minnesota Wild in 2011 and son of current University of Minnesota head coach, Don Lucia, scored 21 goals and added 11 assists for ND last year.

This drawing will be open to all paid members of the club thus far, both renewals and new members. In order to qualify for the drawing, people must have current membership. The drawing will be held the week prior to the series giving everyone who hasn't rewed their memberships a chance to do so.

The first name drawn will have his or her first choice of which night they would like to attend. The second name drawn will get the other night.

Don't miss out on having a chance to win tickets to this series. If you have any questions, please contact our membership chairperson John Gilger

Membership
The objective of Friends of Penn State Menís Hockey, Inc. is to increase fan support and involvement of alumni, students and the community in the Penn State Menís Hockey Program. Membership affords the opportunity to interact with team members and coaches at a number of events.

To download the current 2015-2016 application, click here.
Online Store
Merchandise can be purchased at the online store on http://www.costore.com/pennstatehockey
and proceeds benefit Friends of Penn State Men's Hockey.
Officers
Our booster club officers are:
President: Linda Matesevac
Vice President: Wendy Jo Hartsock
Secretary: Susan DelPonte
Treasurer: Richard Shore
Additional Board of Directors: John Gilger, Carole Pearce, William Rusk, Joel Sobel, Susan Geering

For More Information
Team:
Team Site
Facebook
Twitter
Instagram

Other:
Pegula Ice Arena
Ice Hockey Camps
Nittany Lion Club
NCAA Division I Men's Ice Hockey
Donate Online
Additional donations (only) to the club can be made online at
http://www.active.com/donate/mhbc. Please note: This active.com link is NOT for memberships. For memberships download the form listed under the "Membership" section above, fill out the form, and mail the form with your check payment. Payments using this active.com link will be accepted as a donation only, as stated, and not for a membership.
---
Friends of Penn State Men's Hockey, Inc., PO Box 1104, State College PA 16804
Webmaster: William Rusk (webmaster@fopsmh.org)
Photo Credits: Stephanie Corcino, William Rusk, Joel Sobel